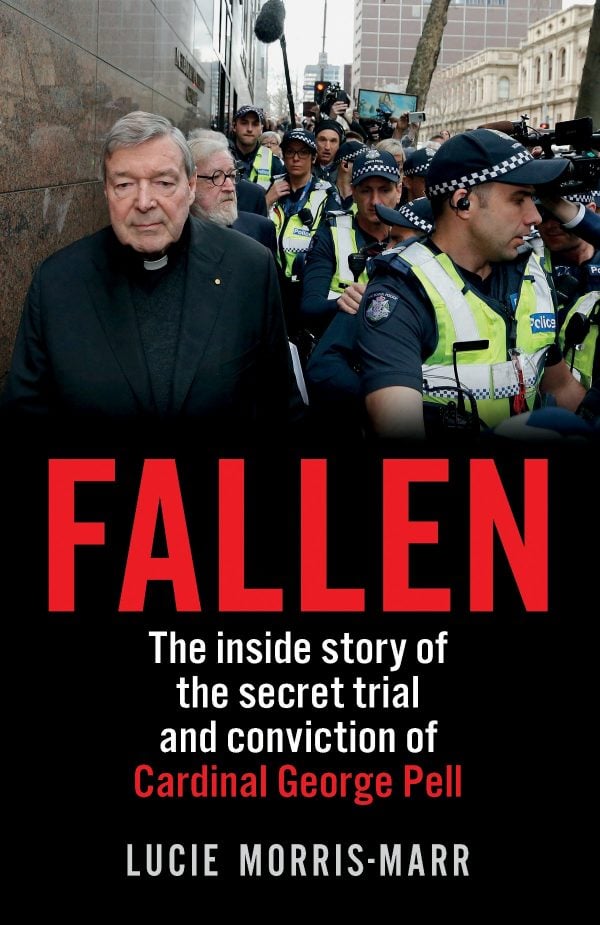 I read this book in three days, which, by my standards is very, very fast. That's because it is a gripping story, even though, like just about everybody in Australia, I knew the outcome.
This is a scorching condemnation of the Catholic Church hierarchy but also of contemporary Australia where vested interests seek to determine who and what is given publicity, which convicted criminals deserve empathy, and when the law should be respected or undermined.
The most striking aspects of the whole saga, captured well by Lucie Morris-Marr, are:
The way that powerful interests worked to initially suppress the news of the accusations against Pell, and then to discredit those involved, and finally and bizarrely to still sing the praises of the convicted paedophile. Pell was known for his right-wing social attitudes on a range of issues. I doubt the likes of Howard and Abbott would have been supportive of a priest such as Father Rod Bower (Gosford Anglican) if he had been convicted of the same offences.
That News Corporation is a vindictive, biased organisation only interested in stories that support its worldview (but you knew that already, didn't you).
That the Catholic Church has a long, dark history of sexual abuse and of doing everything in its power to hide the abuse, putting its own reputation above the welfare of children.
Morris-Marr starts at almost the end – the day when the jury's verdicts on the four charges against Cardinal George Pell, are to be announced.
She then goes back three years to the start of her involvement in the story, when she was working as a freelance reporter for News Corporation. She finds out that there is police task force investigating accusations of sexual assault of minors by Pell, and then that Pell is to be charged with the offences. Initially News Corp are delighted to have such a scoop, and splash it on the front page of the Courier-Mail. However, things quickly turn sour when Pell's powerful connections, including Andrew Bolt, move to have the story squashed. Morris-Marr finds herself without a job and, by the sound of it, having a nervous breakdown.
However, she finds support from CNN and The New Daily, and is back on the trail of Pell. Despite a suppression order preventing publicity of the trials, she doggedly attends every day of the initial trial, which ended without a verdict, and the retrial. She takes us through Pell's life from young sporting hero, to seminarian, to his meteoric rise to become the third most powerful person in the Catholic Church. At one stage he was even spoken of as a possible Pope.
Her account of his time in Ballarat, where he shared a residence with notorious paedophile Gerard Ridsdale is most revealing. It seems inconceivable that Pell was unaware of the horrendous activities going on in the same building where he lived. One victim says that while she was being raped by Ridsdale, a man, most likely Pell, walked past the open doorway and did nothing to intervene. There are also accounts of Pell fondling boys at the swimming pool, and of being warned off by a man who witnessed him standing naked in front of small boys.
She also recounts his handling of historical clerical sexual abuse for the Church, establishing the so-called Melbourne Response. Many victims of abuse were deeply dissatisfied with, even traumatised, by the way in which they were treated by the Church under Pell's management.
But Pell was not on trial for turning a blind eye to abuse, nor for his alleged involvement with boys at a swimming pool. He was on trial for assaulting two choir boys in the priests' sacristy at Melbourne Cathedral. One of the boys committed suicide as an adult, before the assault came to trial. It is the evidence of the second boy, whose name has been closely guarded, which formed the main case against Pell. This evidence was presented only to the jury and no transcripts were released. There is thus an unavoidable gap in the story.
The picture of Pell presented here is of an ambitious, determined, conservative man with very powerful friends. The book also presents a picture of a legal system within which the wheels of justice grind slowly but relentlessly towards a resolution.
—
Pedant alert. The book was rushed out in the wake of the guilty verdict. Inevitably there are typos and other grammatical errors (in my ebook edition at least) which hopefully will be fixed in later editions . e.g. "Tony Abbot", "in other incidences", "juggling an eggshell", "the cardinal just put his dead down", the quotation from Howard's letter not put in quotation marks.
---
Copyright Mike Hopkins 2019